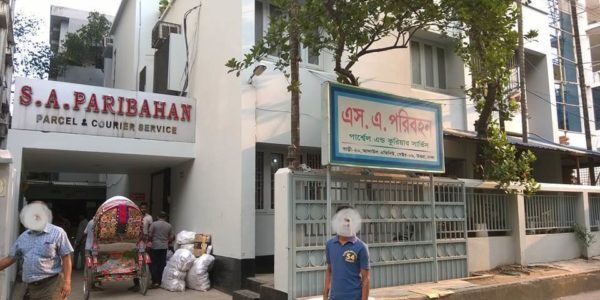 Before we start writing about SA Paribahan Branch List, let's have some information about them. SA Paribahan Branch List let's have some information about them. SA Paribahan (Pvt) Ltd. is one of the most popular parcel delivery services in Bangladesh. This logistics company is owned by SA Group. They are operating in a traditional way with all paper works. No automation has been applied yet. But for eCommerce parcel delivery, especially for outside Dhaka city delivery, they are still in the number one position. Currently, they have more than 75 branches (Correction- Now it has more than 80 Branches) across whole Bangladesh. So far they are handling more than 60% of all online shopping delivery across the entire country. They are operating with their logistics echo system. SA Paribahan can handle huge numbers of the parcel, and they are famous for keeping their delivery time.
For the eCommerce industry, SA Paribahan works as must have a delivery partner for every single company. Due to a lack of trust and faith between the customer and the online shopping site, SA Paribahan works like media. Buyers can buy from an online site and pay the amount on delivery (Partial advance payment may apply most of the time). The whole system is known as Conditional Delivery. We will write a whole new article on that in the coming days. Condition Delivery. We will write a whole new article on that in the coming days.
To get the product faster, you need to know which branch of the SA Paribahan is nearest to you. And for this, we have collected the latest list of SA Paribahan –
Tips: For Quick look up- Press "Ctrl+F" and then start typing the branch name. It will navigate and will mark as yellow.
We will be trying to include new branches on this SA Paribahan Branch List. You also can help us to include for any new branches, comment below with the branch details and we will add it after verification. We already got tremendous response and appreciation from many people who use this SA Paribahan Branch List every day on their work. Nothing is better than helping others 
Sl. No.
Branch Name
Contact person & Address
Contact numbers
Dhaka Division SA Paribohon Branches list
1
Head Office (Kakrail Branch)
22-23, Kakrail, Shantinagar Road,Dhaka-1217, Bangladesh.Contact Person:Salahuddin Ahmed-Chairman & Managing DirectorSalina Akther-DirectorNoor-A-Alam Rubel-Director
Mob: 01755512601, 01755512602, 01755512603, 01755512604, 01755512605
Ph: 9351467, 9332052, 9356581, 9356619,Fax No : 9334730, 9341237,8315341, 9359489
2
Elephant Road
Mohammad Ullah Khan334,347, Elephant Road, Dhaka
Cell: 01755512650
3
Mirpur Branch
Md.Ruhul Amin92, Senpara, Mirpur, Dhaka
Cell: 01755512646-48
4
Malitola Branch
Asaduzzaman Asad93-99, M.s. ComplexMalitolai, Dhaka
Cell: 01755512634-36
5
Mohakhali Branch
MOHAKHALI BR.Alomgir HossainD-5/1A, Rasulbagh , Mohakhali, Dhaka
Cell : 01755-512638
6
Uttara Branch
Golam MustfaHouse-20, Sector-6Alaul Avenue, Uttara, Dhaka
Cell: 01755-512642
7
Savar Branch (Baipail Branch)
Wahidul Aziz Chow.(Wasim)Baipail, Savar ( Near D. E.P. Z)
Cell: 01755512662
8
Lalmatia Branch
4/2 Lalmatia, B-Block Oppositive of Bank Asia, Mohammadpur,
Dhaka.
Cell: 01766688329
9
Supremme Court Branch
Edmdadul HoqueSupreme Court Point, Dhaka
Mob. 01755512654
10
NARAYANGONJ Branch
119, Bangbandhu Sarak,Aman Bhaban, Narayangonj
Cell: 01755512658-60
11
Mymensingh Branch
Manager-Md.Mobin21/A, C.K Ghosh Road, Mymensingh.
Cell: 01755512666
12
Jamalpur Branch
Manager-Kamal UddinStation Road,Near Fire Service, Jamalpur.
Cell: 01755512674-76
13
Kishoreganj Branch
Manager-Md. Tazul IslamIn front of Thana, Kishoreganj.
Cell: 01755512670
14
Tangail Branch
Tajul IslamOld Bus Stand, Mymensingh Road, (Beside Sheba Clinic/LG Butterfly Showroom, Opposit of Habibur Rahman Plaza) Tangail
Cell: 01755512679-80
15
Netrokona Branch
Ismail HossainBehind Of Anjuman School,MokterparakkNetrokona ,
Cell: 0176668809,
16
Gazipur Branch
Dhaka-Mymensingh Road 2 Bogra,Gazipur
17
Sirajgonj Branch
New Dhaka Road, Bazar Station, Sirajgonj
18
Faridpur Branch
Abdul Halim96/97, Sheikh Mujib Rd.Faridpur.
Mob: 01755512869-71
Chittagong Division SA Paribohon Branches list
1
Chittagong Main Branch- Kazirdewri Branch
Morshed Alam Chow120, Nur Ahmed Sarak, Kazir Doewri, Chittagong
Cell: 017555126820175551268301755512685
2
CEPZ Branch
Nazrul IslamNear C.E.P.Z. Gate, Chittagong
Cell: 01755512708-10
3
Nasirabad Branch
Abdul Hai1005/4, C.D.A. Nasirabad Chittagong
Cell: 01755512696-97
4
Doniala Para Branch
M.A MobinM.S. Complex, Dewanhat, Chittagong
Cell: 01755512700-02
5
Khatunganj Branch
Shariful IsmailAmin Market ( Ground Floor ) Khatungonj, Chittagong
Cell: 01755512712-14
6
Cox's bazar Branch
Emran HossainHotel Holyday ( Ground Floor ) Cox's Bazar
Cell: 01755512716-18
7
Kornel Hat Branch
Zakir Hossain AkhandaHouse # A/1 8 D.T Road, Cornelhat, Ctg
Cell: 01755512736-37
8
Comilla Branch
Kamal HossanLaksam Road , Kandirpar, Comila
Cell: 01755512748-50
9
Feni Branch
Kazi Niamot UllahMohipal S.S.K. Road, Feni
Cell: 01755512740-42
10
Chowmuhani Branch
Kazi Amir HossainKarimpur Road, Chowmuhani,Noakhali
Cell: 01755512744-46
11
Maijdee Branch
Nurul IslamPress Club Market, Maijdee Court, Noakhali
Cell:01755512752-53
12
Rangamati Branch
Didarul Islam92, Nobarupa, Rangamati Pharbbatta Zila Rangamati,
Cell: 01755512720-22
13
Chandpur Branch
Ismail HossainSoudia Complex, Chttralekha More,Haji Mohsin Road, Chandpur
Cell: 01755512756-78
14
Khagrachhori Branch
Sujit BaruaNarikal Bagan, Khagrachhori
Cell: 01755512728-29
15
Keranirhat Branch
Kamal HossainNear Satkania Thana, Chittagong, Cox's Bazar Road, Keranirhat .
Cell: 01755512724-25
16
Agrabad Branch
Mossaraf Hossain2374, Agrabad Ex. Road, Agrabad, Chittagong
Cell: 01755512704-06
17
Laxmipur Branch
Monjur RashedUttar Temuhani, Main Road, Laxmipur
Cell:01755512760-62
18
Chokoria Branch
Shahidul IslamPoura Super Market Bus Stand,Chokoria
Cell: 01755512732-34
19
Sonaimuri Branch
KamruzzamanSnehonir, purba Bypass Road Sonaimuri, Noakhali
Cell: 01766688301-03
20
Hajigonj Branch
Moh. HossainToragor­­­, Purba Bazar (Front Of Monir Petrol Pump Hajigonj ),
Chandpur
Cell:01766688305-07
21
Chatkhil Branch
Hospital Road, Kadra Chatkhil,Noakhali
22
Hatajari Branch
Hatajari, Chittagong
Details coming soon
23
Baroierhat Branch
Jahanara Complex, Old Dhaka- CTG Road, Baroierhat
Cell: 01766688336-37
24
Bandarban Branch
K.B Road, Kabiraj Para, Bandarban
Cell: 01766688341-42
25
Chatkhil Branch
Hospital Road, Kadra, Noakhali
Cell:
26
Hathazari Branch
Abdul Hamid Market, Potia main road (Beside Petrol Pump)
Cell:
Rajshahi Division SA Paribohon Branches list
1
Rajshahi Branch
Mahbubur Rahman104/106, kumarpara, Rajshahi
Cell:0175551280801755512809
2
Pabna Branch
Kamal UddinA.Hamid Road.Pabna
Cell: 01755512832-33
3
Bogra Branch
Humayun KabirMofiz Paglar more, Bogra
Cell: 01755512820-22
4
Natore Branch
Abu Yousuf MillonKanaikhali, Natore
Cell: 01755512824-25
5
Naogaon Branch
Golam farukJ.R. Super Market, Old Bus Stand, ChakdebNaogaon.
Cell: 01755512828-30
6
Rangpur Branch
Kazi Firuj Alom116, Old Hostipal Road Rangpur.
Cell: 01755512881-83
7
Syedpur Branch
Syed Hossain TuhinDr. Zikrul Hoque Road Dyedpur
Cell: 01755512885-87
8
Dinajpur Branch
Nazmul HoqueNew Market, Thana Road, Dinajpur
Cell: 01755512889-91
9
Chapainawabganj Branch
Abul KashemNimtola road, New Islam pur, Chapainawabgonj
Cell: 01755512816-18
10
Baneswar Branch
Didarul Islam KamalFront of South East Bank, Old Kola HataBaneswar Bazar, Rajshahi
Cell: 01755512812
11
Iswardi Branch
Thanapara Front of Thana , Pabna Road Iswardi,
Cell: 01766688325-26
12
Lalmonirhat Branch
Misson More TNT road, Lalmonirhat
Cell: 01766688373-74
13
Kurigram Branch
Goshpara, Hospital Road,Kurigram
Khulna Division SA Paribohon Branches list
1
Khulna Branch
Siddikur Rahman Babul73, Lower Jessore Road, Khulna
Cell:01755512768
2
Khalishpur Branch
Abdul MotalebNatun Rasta, Kashipur More, Khalishpur, Khulna
Cell: 01755512772
3
Jessore Branch
Mikail Sarder1, M.K. Road,Rownak Chamber Jessore
Cell:01755512776
4
Kushtia Branch
Shah jahan1, Jourdar Street, N.S. Road, Thanapara,Kushtia
Cell:01755512804
5
Noapara Branch
Mutiul Islam545/715, Bhuikara, Noapara, Jessore
Cell: 01755512784
6
Satkhira Branch
Ayub AliNear Roxi Cinema Hall, Old Bus Stand
Cell: 01755512780
7
Bagerhat Branch
Nur Alam122, Old Market, Main Road Front of Post Office, Bagerhat
Cell: 01755512792
8
Magura Branch
Kh.Salim RezaVhina More Magura,
Cell: 01755512788
9
Jhenaida Branch
Abul HashemAugnibina Sarak, Jhenaida
Cell: 01755512800
10
Benapool Branch
Abdul LatifMadrasa Market, Main Road, Benapool
Cell: 01755512796
Sylhet Division SA Paribohon Branches list
1
Sylhet Zindabazaar Branch
Shah Alam Majumder3/1, Kazi Mansion, Zindabazar, Sylhet.
Cell: 01755512836-39
2
Moulovibazar Branch
Manager-Shafiqur Rahman babuSylhet Road, Moulovibazar.
Cell: 01755512845-47
3
Sreemongal Branch
Shah jahan SajoMoulavibazar Road, Sreemongal
Cell: 01755512849-51
4
Kadamtoli Branch
KhoshruzzamanKadamtoli Sylhet
Cell: 01755512841-42
5
B.Baria Branch
Nasirat Alam MazumderKalibari More, B-Baria
Cell: 01755512764-66
6
Chhatok Branch
Abu Yousof MillanChhatok Bazar, Chhatok
Cell: 01755512857
7
Hobigonj Branch
Altaf HossainSadar Road, Hobigonj
Cell: 01755512853-55
8
Sunamgonj Branch
Mosarof HossainOld Bus Stand, Sunamgonj
Cell: 01755512861-63
9
Gobindogong Branch
Abdur Razzak Mansion, Sunamgong Road, Gobindogong, Sylhet
Cell: 01755512857
10
Beanibazar Branch
Main Road, North Beanibazar (In front of Thana), Beanibazaar
Cell: 01766688317-20
Barisal Division SA Paribohon Branches list
1
Barisal Main Branch
Liton Sutra Dhar123/112, Sayestabad Loz, Nawab Bari, Police Line Road, Barisal
Cell: 01755512865
2
Jhalokathi Branch
Abul Hossain62, Post Office Road Jhalokathi
Cell: 01755512874-75
3
Pirojpur Branch
Shafiqur RahmanParer hat Road (In front of Sorkari Mohila College),pirojpur
Cell: 01755512877-79
Disclaimer: All this SA Paribahan Branch List are subject to change according to their requirements. The above information was collected from the internet and from various source like SATV, Yearly Calendars etc. This information could be changed without any prior notice. It is requested to check your nearest branch office or branch for more accurate result. We will try to update the info time to time but not liable or bound to do so.